Robert Pinsky
(photo available but Mr. Pinsky is not)
The 2004-2005 Right Hand Pointing Righting Contest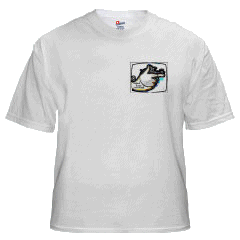 What you see above is the only Right Hand Pointing T-shirt in existence. No, actually, it is even cooler than that. It's so hip, it doesn't exist. Through a service called cafepress.com which I have used before, I, your editor, will have one t-shirt made up in your (confidential) t-shirt size as soon as you win the 2004 Right Hand Pointing Righting Contest. (Yes, I know how to spell writing. It's a little joke.)
The rules are simple, our judge will read the first four issues of Right Hand Pointing and declare a winner based on a single piece or multiple pieces appearing in RHP. That's right: Those of you whose work appeared in #1 or #2 have already entered. The winner gets the t-shirt and will be able to sleep, perhaps dressed in the t-shirt, knowing it's the only such t-shirt on Earth. In case you can't see in the above image, it will have the RHP logo on it. The back will read "2004 Prize Winner"...or something like that, unless the winner's modesty makes that undesirable.
Poems, fiction, commentary make an author eligible. Get published in RHP, and you've entered automatically. No need to enter separately. The contest will end when the fourth issue goes online. We would like to announce that the contest will be judged by Robert Pinsky. However, there's not a chance in hell he'd agree to it so we'll use an alternate method. In fact; Hey: Screw judges! We'll use the democratic process. All published authors will be allowed to vote. It'll be just like the Academy Awards except we won't dress up. (Actually, I'll be wearing a designer gown, but that's not anybody's business but my own.)
Any why not use the Democratic process? We're fully equipped to handle it here at RHP. We got special interest groups ready to run nasty attack ads against competing writers. We got a team of lawyers ready to demand recounts, stop recounts, and argue before the Supreme Court.
Anyway, more about that (the polling process, not my gown) later. Write for your soul. Write for truth. Write for Right. And, most of all, write for a T-Shirt with our logo on it.
Deadline: Date of publication of Issue #4.

Dale
Your Editor


Judges (screw 'em)