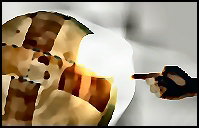 #13 "Puzzle Ball"
Contributors
"Speak my language." Laurie Anderson
Sandra Agricola

Sandra Agricola is the author of two collections of poetry, Master Bedroom Poems and White Mercedes. A chapbook, Yellow, is available from Mercy Seat Press. Her poems have appeared in The Georgia Review, Denver Quarterly, Awakenings Review, The Ohio Review, and elsewhere. She lives in Birmingham, Alabama.

Stella Brice

Stella Brice received her degree in English Lit. from Rice University; & has worked, variously, as housecleaner, tarot reader & performance artist. Her writing has appeared or is forthcoming in Frank, Total Abandon, Fine Madness, Southern Poetry Review, the anthology of border poetry Tierra Cruzada/Crossed Land & many others. She is a winner of the John Z. Bennet Prize & is co-editor of the literary journal Art Club. Her first collection of poems Green Lion was released in the spring of 2005.

Rohith Sundararaman

Rohith Sundararaman lives in Bombay, India. His work has appeared in eclectica, elimae, edifice wrecked, GUD and elsewhere. He is 22 years old and is studying to enter the corporate world. (We have time to talk him out of it.)

Noah Falck

Noah Falck teaches Language and Thought at Northridge Local Schools. His poems appear or are forthcoming in journals such as Gulf Coast, LIT, Combatives , Bat City Review , H_NGM_N, Absent, The Bedside Guide to No Tell Motel – Second Floor, and others. He lives in Dayton, Ohio.

Tony Lamont

Tony Lamont has published many scientific articles and is a prolific letter writer. This piece is from one of his letters. Previously occupied as a contracting builder in Central Africa he trained in medicine, specialized in radiology and now resides in Australia working with children. He thinks anyone over 16 years old borders on geriatric.

TJ Rivard

TJ Rivard has been previously published in The Café Irreal, Oxford Magazine, the Eureka Literary Magazine, flashquake, SmokeLong Quarterly, and the Kentucky Poetry Review. He has also been nominated for a Pushcart Prize.

Peter Schwartz

Peter Schwartz is the associate art editor of Mad Hatters' Review and has about a hundred paintings published online. His work has appeared in several online galleries. His painting 'Terminal 4' is being projected onto two walls on Frinkle Street as part of an exhibition in York, UK. He is currently working on paintings to be shown in the future at the Amsterdam Whitney Gallery in Chelsea NYC.

Allan Peterson

Allan Peterson's work has appeared previously on Right Hand Pointing and he is the author of Any Given Moment, one of our web chapbooks. His new book, All the Lavish in Common, will be reviewed very positively by Stephen Burt in the Yale Review. He recently won the Muriel Craft Baily competition from The Comstock Review, judged by Thomas Lux.

Aaron M. Hellem

Aaron M. Hellem attends the MFA Program for Writers and Poets at the University of Massachusetts in Amherst. His short stories have been published most recently in Ellipsis, Contrary Magazine, Carve Magazine, and Dandelion Magazine; also, works are forthcoming in the Pisgah Review and the Powhatan Review.

Christine Stoddard

Christine Stoddard is a DIY fairy-child from Bourgeois-ville, Virginia who loves listening to obscure indie music and collecting cicada moltings. Her favorite word is "imbue" and her least favorite food is mushroom pie---and, yes, that is actually a dish.

Colin Fleming

Colin Fleming's work has appeared in Rolling Stone, The San Francisco Chronicle, The Village Voice, Storyglossia, Metropolis, and Cineaste, among other venues. He is wrapping up a novel.

Corey Mesler

Corey Mesler has published prose and/or poetry in Turnrow, Adirondack Review, Paumanok Review, Yankee Pot Roast, Monday Night, Elimae, H_NGM_N, The American Drivel Review, Poet Lore, Forklift OH, Euphony, Rattle, Dicey Brown, Cordite, Cellar Door, and others. His novel-in-dialogue, Talk, was published by Livingston Press in 2002 and was positively reviewed by Lee Smith, Robert Olen Butler, and John Grisham. His new novel, We are Billion-Year-Old Carbon, is also from Livingston Press. A poem, "Sweet Annie Divine," was chosen for Garrison Keillor's "The Writer's Almanac." He has been nominated for the Pushcart numerous times. With his wife, he owns Burke's Book Store, one of the country's oldest (1875) independent bookstores.

Louise Norlie

Louise Norlie's fiction and non-fiction has appeared in numerous magazines, including juked, edifice WRECKED, Bewildering Stories, Static Movement, The First Line, Long Story Short, elimae, the Angler, and Raging Face. Her work is also forthcoming in Breath & Shadow, and Mount Zion Speculative Fiction Review.

John N. Tieman

John N. Tieman was born on a farm in Vermont. He touched electric fences like lovers, and talked to the animals. Years later, he was in New Jersey. He grew up with an intense fondness for drawing, painting, and music - to the point of being perceived as lazy or carefree.

Gary J. Whitehead

Gary Whitehead's first full-length book of poems,

The Velocity of Dust

, was published by Salmon Publishing in 2004. A third chapbook,

After the Drowning

, is just out from Finishing Line Press. Awards include a New York Foundation for the Arts Individual Artist's Fellowship in Poetry, the PEN Northwest Margery Davis Boyden Wilderness Writing Residency, and the Pearl Hogrefe Fellowship in Creative Writing at Iowa State University.

John Grey

John Grey is an Australian born poet, playwright, musician. Latest book is What Else Is There from Main Street Rag. Recently in Parting Gifts, Art Mag, and Chaffin Journal. His work appears often in Right Hand Pointing.

All rights reserved. All poems, fiction, articles, essays, and artwork are the property of the authors and artists within, and as such, are protected by applicable U.S. and international copyright law. Copying or reprinting in any form is prohibited without the expressed permission of the author or artist.