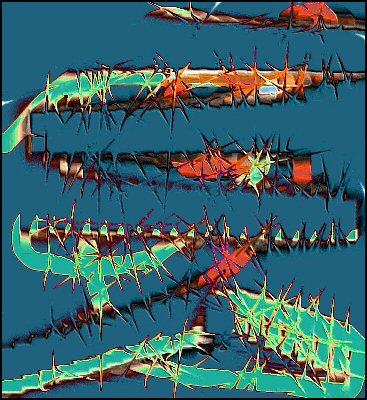 "My Boyfriend's Hair" by Kat Lemmons
Number 6 (2005)
"The Need For Carp"
The Edito

r

note

Note 6

Ann McNeal

poetry

Nancy Dymond

poetry

The Way a Poem Lives

Helen Losse

poetry

Weather Report

Jeffrey Ransdell

poetry

Susan H. Case

poetry

The Oil of Possibility
The Need For Carp
Flat Universe
Return

Paul D. McGlynn

poetry

Night Beach, Key West

Laurence Loeb

poetry

Darrell B. Grayson

poetry

Rolf Halvorsen

found & processed

photography

Bad Photos #1-4

Jeff Walker

poetry

John Grey

poetry

Stephanie Zultanky

poetry

Robert A. Neimeyer

poetry

F. J. Bergmann

poetry

Bullfight With Hemingway
The Haunted Parka
Corporate Art Collection
For Your Convenience

Contributors

bios

"To be a poet is a condition, not a profession." Robert Frost


Click below to join the mailing list, which will usually simply be a notice that a new issue is posted.

A Nocturnal Glider Production
All rights reserved. All poems, fiction, articles, essays, and artwork are the property of the authors and artists within, and as such, are protected by applicable U.S. and international copyright law.Copying or reprinting in any form is prohibited without permission of the author or artist.